---
IT Channel - Industrial Data Mart
We consolidated our experiences and industrial knowledge gained from hundreds of solid Business Intelligence and Data Warehousing projects to develop "Industrial Data Mart." Our products aim to provide rapid implementation to the organization on Business Intelligence enablement with industrial standard analytic features. To cope with the fast changing business and market trends, the high flexibility of modifiable and extendable data mart plays a significant role in the success of adapting to business change.
Our product – Industrial Data Mart is the core component facilitating the capability of the Business Intelligence system. With this Data Mart, many localized industrial specific analysis, particularly those for China and Hong Kong, are enabled without long running development effort, consuming both time and cost for the organization. Standard business report temples are also part of our product, providing easy, simple and direct access to the useful information for business analysis and decision-making.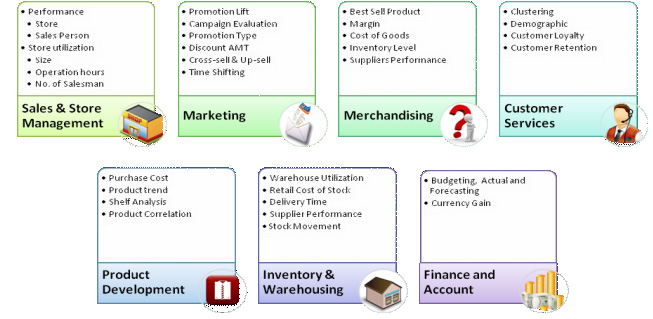 The industrial Data Mart covers various range of industry including but not limited to
Retail
Logistic & Supply Chain
Manufacturing
Financial services and Insurance
Telecommunication
Each data mart includes industrial oriented key performance indicator (KPI) for its specific analysis. It brings origination benefit from Business Intelligence in a faster way by providing a blue print for a comprehensive data warehouse and the business intelligence applications running on it.
Our products, are not limited to the specific database vendor's products, will be built on relational database such as Oracle, MSSQL, DB2, Sybase, MySQL etc. It also supports various Business Intelligence platforms. Some of the Business Intelligence platform support metadata layer, which translating technical detail to business understandable terminology, such as IBM Cognos, SAP BusinessObjects, Microsoft BI and Oracle BIEE. Our product will include this layer for this kind of Business Intelligence platform. Furthermore, report templates will also be built base on those Business Intelligence platform in order to enhance the ease of use of the analytic application. The report templates are identified as those commonly used for operational and analytic purposes.